Saying farewell To a Rescue Dog
I sit writing this and it feels like another chunk of my heart has been ripped out. Want to see a grown man reduced to tears ? Just come here when we have had to say goodbye to another of our rescue dogs.
Those who have lost any dog will know the pain I am feeling tonight. I have just received the call from the vets, to say our rescue dog, Sali The Westie has passed away. This little timid bundle of white fur, that came with manky ears and problem skin. A dog that came on foster that we adopted only just 6 short months ago
Why do we do it?
Having friends that run a rescue centre, as well as dog grooming for a living, means we frequently come across dogs that need a new home. These can be through genuine reasons. but quite often they can be ex breeders. Past their usefulness, and sometimes those that should never have been bred from.
We could not even say Sali was 100% West Highland Terrier, and to be honest we didn't care. She came into our home as a foster, like others before stole a piece of our heart, so ended up adopted.
She was so timid. We don't know what had happened before, but a movement too quick would make her scurry. After six months she was just beginning to accept approaches from humans. The only blessing over her last two days with us was her willingness for a cwtch, and to have closer human contact.
The Rage inside.
I practice Buddhism. One of the main precepts is a respect for all life. When it comes to the dogs in our care this is relatively easy. We accept their faults, and in return their love. They accept ours. What is harder though is to see those who are cast out, and to try and understand the reasoning behind it. The only rational I can offer is to be thankful that it has allowed us to share our lives with those who have trusted humans, despite what has been inflicted on them.
There for the dogs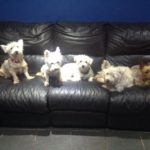 Sali is on the far left of this photo. She was quite happy with the rest of our gang who accepted her.
We humans can learn a lot from our dogs. They take no notice of differences. Colours of coat, afflictions, imperfections etc. So often we are asked do we prefer working with animals or people. All of us here tend to answer animals. Perhaps their lack of prejudice is why and what we aspire to.
We cant save them all as much as we want to.
Will we do it again?
Will we have another rescue? Another elderly dog again ? Despite all this pain. Never say never. We have to be there for our other gang members. They are never just a dog. Dog people will get it. They are part of the family. Each time we have to say goodbye, we loose part of our heart. The next one in doesn't replace the one we have said farewell to. They do however give their love and remind us to give ours in return.
Farewell
So farewell to our little rescue westie Sali Mali. For the short time you were here, you had our hearts. Part of our heart will go with you, but you will always stay in our memories. The final cwtches we had will never be forgotten. We hope we bought you the comfort you deserved in your last few months.