A New Mobile Service.
Thanks to the support of our loyal customers, our dog grooming salon is near capacity. From experience, we have found a lot of dogs appear to be more relaxed when they are the centre of attention. Taking this into consideration has led to our investment in a Mobile dog grooming salon. This allows us to offer the option of our service on your door step.
Why Mobile ?
Chris used to do home visits in special circumstances. Although the desired service could be carried out to a very good standard, a Salon groom still had the edge. Over the last 12 years we have had the privilege of working with only one persons dog or dogs on the premises. To offer our service to more people and take on a high street premises, and work the way we do, would mean having to compromise on service or raise prices substantially.
By offering this service, we can continue working to the standards we believe in at the salon, as well as offering mobile dog grooming for those who want a visit at home. We allow well behaved humans to watch either service.
What's Included ?
Our Mobile dog grooming offers all of the features of our standard Salon Service, but carried out on your doorstep. We allow time to introduce your dog to our environment, and to get to know them. We always discuss owner requirements and will discuss with you whats best for your dog.
Booking.
As with our salon service, there may be a wait for your initial mobile dog grooming appointment. The majority of our clients will book their dog grooming appointment in advance, usually doing so before they leave. We operate on an appointment only basis, and allow the time required for each dog as an individual. We allow extra time for first appointments to find out about your dog and yourself. Please feel free to ring on 01267 282828 to discuss your requirements. We don't answer the phones whilst dog grooming, but please leave a message.
In the Beginning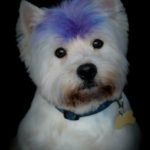 Thirteen years ago we struggled to find a dog groomers that worked the way we envisaged for our West Highland Terriers Hamish and Macbeth . I went to do a basic training course, and was hooked. Sadly Hamish and Macbeth have passed, but what they helped create has remained. I will be ever grateful to them for the path they started me on.
Building The Business
Over the course of the next few years, I gained experience by attending seminars, completing my N.V.Q.'s and the business rapidly grew, mainly by word of mouth referrals . Six years ago, I had to cut back on my workload due to health reasons. For the next few years I stayed low key, only seeing a very small number of customers.
Building on Knowledge
During this time I gained my BSc (Hons) in Animal Welfare and Behaviour. I also met the lady who works with me part-time Ashlee, Like me she has her FdSc in Animal Science and is presently studying to gain her BSc.
Sharing with Others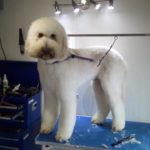 This has allowed us to take on more customers. Ashlee concentrates mainly on smaller breeds, whilst I generally take on larger breeds, as well as concentrating predominantly on poodle and bichon crosses. I lecture part time in Animal Care with youngsters at the local college, and have also run short courses for owners who wish to learn to groom their own dogs between appointments.
Dogs and Their Humans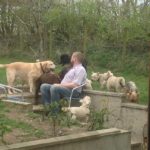 I have a special interest in what the Americans refer to as H.A.I.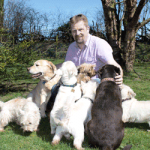 (Human Animal Interaction) and both my FdSc Thesis and BSc Dissertation centred around this. Looking at the benefits of owner education in grooming their dogs, and the benefits of dogs for those suffering anxiety, depression stress or P.T.S.D. A large amount of this interest has stemmed from the interactions I have with the gang of re-homes and rescues that live with us. In fact it is predominantly down to the fact I have to keep them in the lifestyle to which they have become accustomed, that I still groom other peoples dogs.
What We do Differently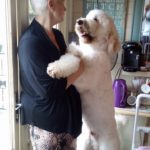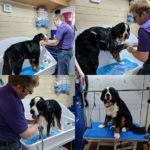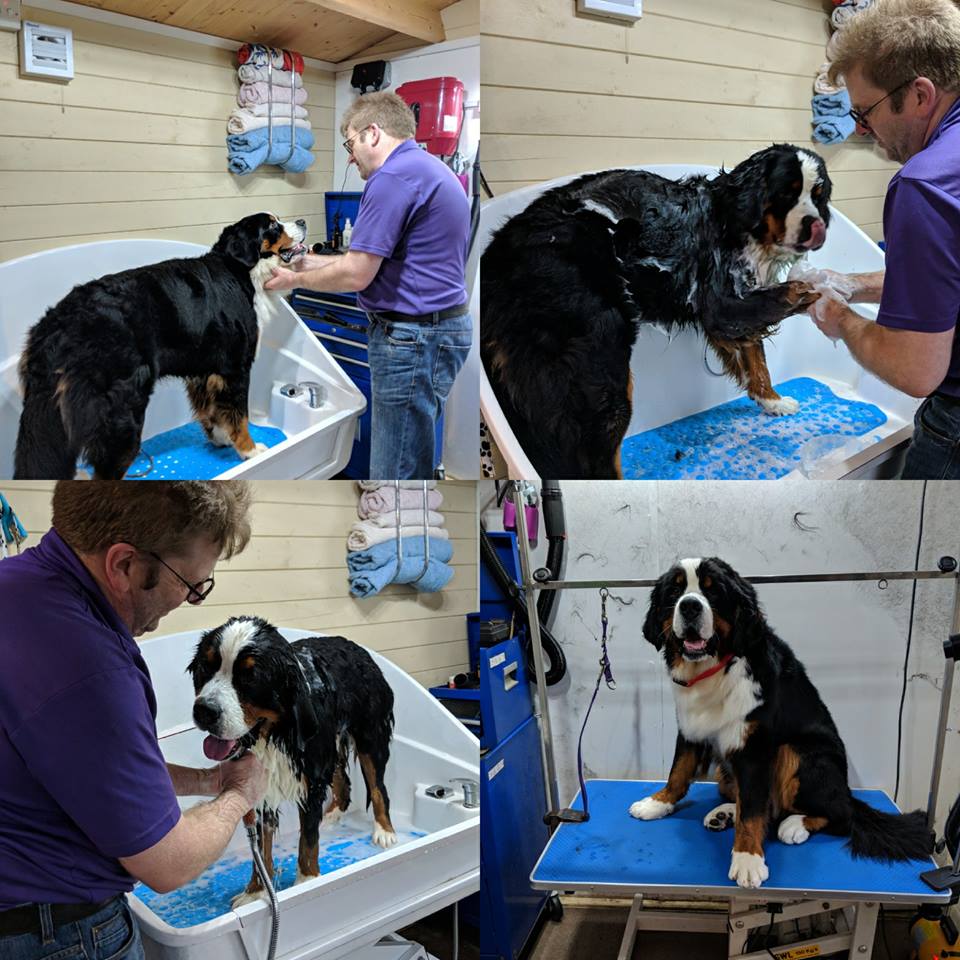 We work on a one to one basis with your best friend, and book appointments in such a manner we aim to create a less stressful environment for you and them. From experience, this leads to an increased chance of a more enjoyable time for you both.Where required, we may suggest an initial assessment appointment for you and your dog to meet us, before we start any grooming. Building on this then allows your dog to get used to us and a new environment.
We use only naturally and organically based products, have an open door policy, and don't believe in having your best friend waiting around in cages.
Although the majority of our customers are from Carmarthen, Cardigan and Pembrokeshire areas, we do get people who travel further afield. If booked in advance we can often cater for tourists and seasonal home owners.
We are more than happy to discuss your requirements and look forward to meeting you and your pawpal.
Cutting Dogs Nails.
Often we come across a dog who object's to having its nails cut. There are numerous devices on the market to try and alleviate this problem. There are however things you can do which may prevent the problem from occurring or alleviating it.
Why Cut Your Dogs Nails.
Left unchecked and uncut, your dogs nails will grow to an extent it causes discomfort. They get so long that they grow back into the pad. This causes pain and infection requiring veterinary treatment.
Make it a habit
A lot of our owners are comfortable cutting their own dogs nails. If your dog isn't happy, the first thing I would recommend is getting them to have their paws held. The idea behind this is too build up the amount of time you can hold them for.
How to go about it
I suggest the following is done whilst in a safe place, where you and your dog are comfortable. I tell all my owners investing in a dog grooming table is sound for them and their dogs. Dogs love routine. Set it as you mean to go on. It will be less stressful for both of you.
As you hold them, let them know holding it is a good thing, give praise or a titbit. Leave it longer holding it before giving them the treat. Give the treat whilst you hold the paw when its still. If you have a dog that pulls the paw away, keep a light grip on it.
Don't get into a tug of war pulling it back as you risk injuring the dog. Stay quiet, don't shout or encourage stay calm until the dog is still again. then give the praise.
Now the dog has gotten used to this, do it with all four paws. Leave the nail clippers on the table every time you do it. When you are moving the paws, make sure you only move them in the natural direction of the dogs joint movement. Sometimes you may find it easier to turn the paw upwards, as shown in the picture, to gain access to the nails.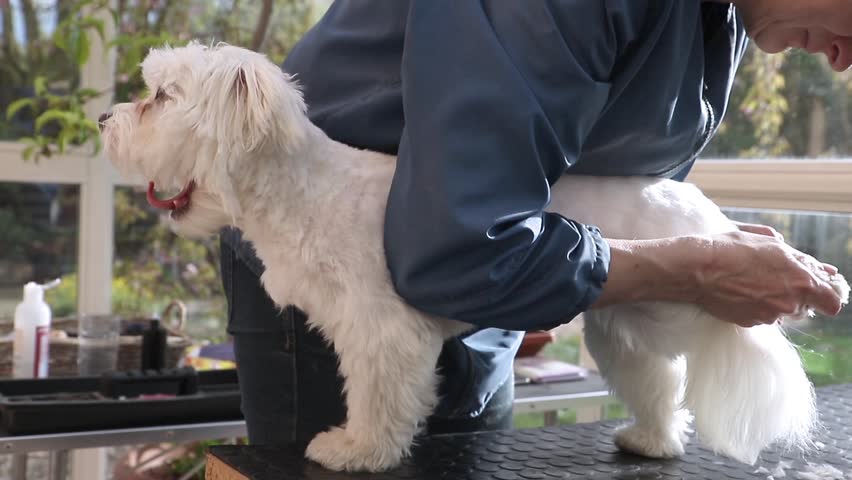 This procedure may take quite a time to achieve, but it should prove less stressful for you and your dog. Don't do it all in one go, unless your dog is happy with it. Make sure you are both safe and comfortable, and your dog is secure on the surface on which he is standing.
Cutting The Nail
Nail Types
We mainly see two types of nails, those with a clear pink quick, and those that are dark where the quick isn't readily visible.
Clipper types
There are several types of nail clippers on the market. The last few years has also seen an increase in the use of dremel type electric grinders. For this entry though, we will just look at the most common type available.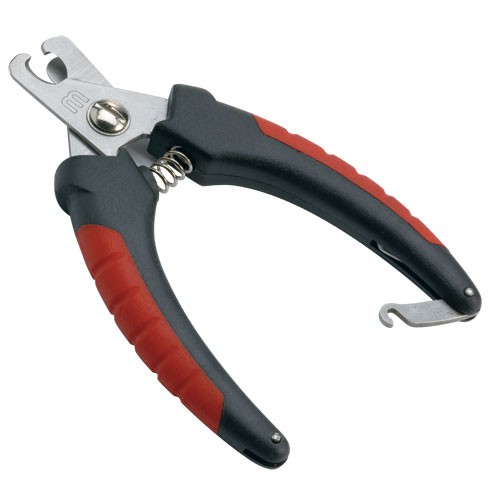 Most of these are fitted with a moveable guard. The idea behind this is stop too much been cut from the nail. Be careful, this set distance may also be too big a cut, and can block your view
The diagrams below show where to cut on the nail. If you cut through the quick, it will bleed. It is always worth having a product like Trimmex on hand. If you haven't, a tip passed to me by a vet, is pressing the nail in a bar of soap.
Carefully trim the nail back. Again a small amount at a time is better if you are not confident. As you trim the nails on a regular basis, this keeps the quick short. This is easier to achieve on light nails where you can see the pink. It is harder on dark nails.
On Dark nails, again small trimmings will help the quick recede.
If you look at the underside, it will have the appearance of a horseshoe with a raised edge. Only trim this raised edge, until the nail looks like the second in this picture
The Benefits of Exercise
Regular walking on harder surfaces will help keep your dogs nails in check. Some dogs nails seem to grow at a faster rate than others. Exercising mainly on soft ground, will require checking the nails more often.
If in Doubt
When you are not comfortable or nervous, I am a firm believer your dog will sense this. They will then react to your nervousness. This then becomes a cycle, leaving both of you stressed. If you are in any doubt, seek professional help.If you are not happy cutting the nails, by getting your dog used to having their feet handled, will help them and the professionals. Extra time spent with your dog is a bonus, even more so when its a benefit to you both
A Dog is For Life
Call me a cynic, but having just spent half an hour scanning a well known internet selling site,I couldn't help but notice that approximately 50% of the adverts were for puppies. Most of these were either ready now, or available in the weeks leading up to Christmas.
A large number were also of a mixed or 'designer' variety, cockerpoo's, cavashons, poodle x cairns, jugs etc. Also some listing dogs of a specifically cute nature, such as mini dacshounds and mini schnauzers.
This happens every year.It makes me wonder why we are still having to promote 'A Dog is for Life not Just For Christmas' .A slogan that is 39 years old this year.


The Most Wonderful Time of the Year
An addition of a four legged friend, will make anytime the most wonderful time. A new pup in the house can also be very stressful.The toilet training, the sleepless nights, the feeding routine, the destroyed toys. All this on top of preparing, cooking and been confined to close quarters with people you may not see for the rest of the year.
Although the percentage of dogs obtained by way of been received as a gift may have dropped from 20% to 2% over that period. If we consider the number of people owning dogs has increased overall, the message may not be hitting as hard as it should be. In 2012 over 9000 dogs were destroyed in council pounds. (figures from dogs trust). A lot of dog rescues have no destroy policies, council pounds haven't that luxury(1).
These figures admittedly don't just cover Christmas pups, but also older dogs . Knowing some people who work tirelessly in rescue, I can confirm some of the irresponsible excuses highlighted by John Bingham in 2008 are still heard. These include the puppy bought for someone with a known illness.(2)
So sometimes for a dog, it isn't the most wonderful time of the year.
The True Cost of Christmas.
I will not try to put anyone off taking on a puppy. This article does not aim to criticise responsible breeders. I would however implore people to look at the true cost of having a puppy in the house at any time. If your tree, present and food survive, depending on breed you are taking on up to a 20 year plus commitment.
That bundle of joy will provide you with love, devotion and attention that outweigh any financial cost. The hard reality is however, there will be a cost in time and finances. Start with food and insurance, and even for one dog you can be starting at £100 per month upwards. leads bedding, boarding costs if you are away, vaccinations etc will also add to this.
The true cost of Christmas could over a lifetime could easily enter five figures.
The Perfect Gift
To my mind the addition of four legs to a household is a privilege not a right. The perfect dog does not have to be a pup, or a designer breed. Every dog person will think despite any faults, their dog is the perfect dog.
Anybody taking on a dog really does need to think carefully about who they are taking into their home. It may just be that the perfect dog for you is in fact waiting in a rescue centre in June, not under the tree at Christmas.
1.https://www.theguardian.com/world/shortcuts/2013/dec/08/dog-pounds-nightmare-christmas-unwanted-pets
2. http://www.telegraph.co.uk/news/newstopics/howaboutthat/3776640/Owners-give-up-dogs-because-it-doesnt-match-the-sofa.html
Why should I Pay for a Rescue Dog?
Recently I have seen discussions on social media selling sites when dogs have been advertised free to a good home. This will always ignite a barrage of comments, some more politely worded than others. These will usually stem around the "These dogs will be used for bait" "They can be picked up by dealers or people who will sell them on" or "Why should I pay a rescue when I can have one for free"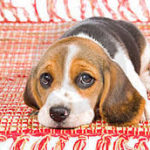 Genuine Cases
I will not pass judgement on people who have to rehome dogs, when they believe it is in the dogs best interest. As well as those who have misjudged what they have taken on, there will always be genuine cases such as illness, bereavement etc. Arguably there will also be cases where negligence has played apart or abandonment, these dogs will quite often end up in Rescue.
The True Cost of taking on a Rescue Dog
No Dog is truly free of cost to a responsible person. I am fortunate to know some wonderful people who work in rescue. Locally to us I see adoption fees ranging from £120-£200+ . Some operate a flat fee.Others will differ by breed.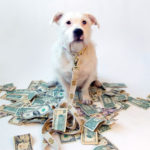 From personal experience I know neutering, without scheme vouchers, can cost £80 upwards. Vaccinations from around £30. So the free dog has already cost you £110.
Responsible rescues will assess dogs for behaviour, perform home checks and carry out the above prior to re-homing. The dog will also have been fed whilst in their care, given clean bedding and sheltered. This requires the maintenance and cleaning of buildings. There may also have been medical conditions that required treatment prior to re-homing.
Meeting The Cost
Small Rescues are often Not for Profit Organisations, if not registered as a charity. Most will rely on volunteers help, and donations from sponsors. They may get discounted vet bills, and occasionally finance from schemes sponsoring vaccination and neutering. I would suggest often the £120 fee may not cover what has been spent on the dog that you are about to re-home.
Why the fees and checks?
A rescues main priority is save a dogs life, and to find a safe home. When re-homing a rescue dog, consideration must be given to its requirements. If a rescue dog is placed in a home that is not suitable, it can be returned to the rescue to start the cycle again. This will be detrimental to the dog, as well as increase the financial burden to the rescue.
In carrying out these procedures, home-checkers may raise issues potential adopters had overlooked. This is not being critical, but there may be dog specific issues. We have known small terriers of clearing high fences if not burrowing under.
Rescues will look for humans and homes that will suit specific dogs. Hopefully that will then be their forever home.
Can you afford a dog?
This is not meant to sound condescending. Living with a rescue dog, or any dog is a privlidge not a right. I will not begrudge anyone sharing their life with a dog. Neither would I slate anyone for trying to rescue a dog. Regardless of your social standing dogs require sacrifice. I have seen people with no possessions with well cared for and well loved dogs. I have also seen wealthy people with neglected and underfed dogs. My main concern, is that where possible that rescue dog is the right dog with the right person.
There are organisations that can help with vets fees, such as blue cross and PDSA. There will still be the costs of food, vaccinations,training, bedding etc.
Rescue and Research
This is not designed to dissuade you from having a rescue dog of any kind. The aim is to make people aware of costs. However much research you do, whether generic or breed specific, you will miss something. Living with dogs is rewarding, even more so if you can take the stress out of the relationship. It will be a constant learning journey, with ups and downs on the way.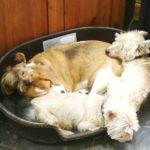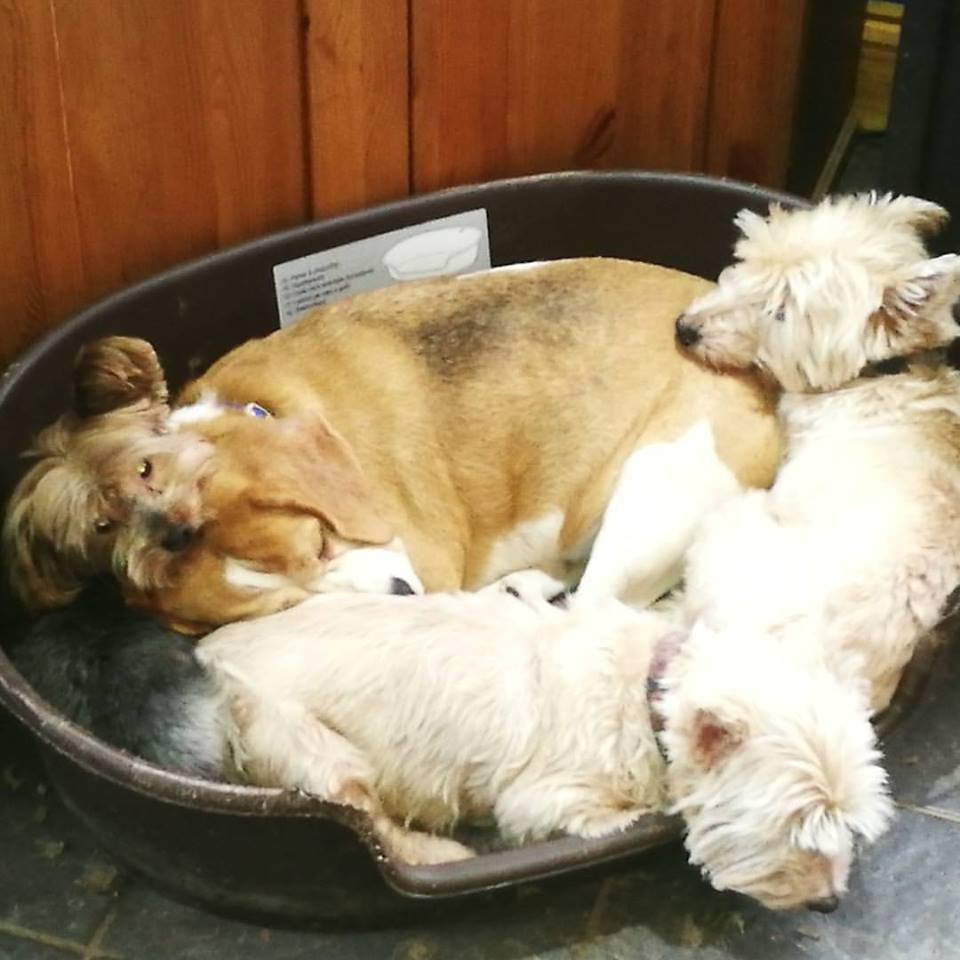 Before you question the cost, visit your local rescue. They will be happy to help. Ask questions, work with them. They will help you find the right rescue dog for your circumstances..
For further reading supplied by hope rescue: rehome information
Our Local Rescue Centres