What's Included in the price of The Dog Grooming Service ?
As a dog groomer, often the first question I get asked when answering the phone is "How much does dog grooming cost ?" ( See also Are you choosing the right Groomer)
This is somewhat fustrating. Whilst we have set prices for customers who have their dogs groomed on a regular basis, it will differ for those leaving longer between dog grooming appointments.
This is not the only question to ask when trying to find the right dog groomers. How can you compare when you don't know whats included in the price. Some groomers consider nail clipping etc as an extra service. Make sure you know what you are getting.
What do we consider a full Groom ?
When we quote the cost of our dog grooming service, it includes the following:
Consultation
Initially to check there are no health problems with your dog before grooming. Also to ascertain any specific requirements for style of cut. Behaviour issues, any sensitive areas. This also allows your dog to settle in before grooming.
Full Groom
The exact content depends on breed. Smooth coated dogs will be de-shedded where required. Any pad areas requiring trimming. Ear leathers cleaned. Nails clipped. Shampoo and rinse to loosen dirt. Second shampoo and conditioner removing any debris and maintain coat. Blow dry and fragrance as required.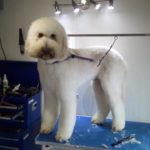 With longer coats, additionally we brush out loose and dead hair when grooming dogs with double coats that don't require clipping. Examples of these would be Golden Retrievers and Collies. Where coats are styled, clipping is included as well as scissoring where required.
Our Shampoo and conditioners are all naturally based.
Other Dog Grooming Cost Considerations.
In the salon we only have one persons dog in the grooming area at a time.
For us, it is a more personal dog grooming service. We find often dogs are more relaxed. As long as it doesn't stress the dogs, humans are allowed to watch them been groomed. There is no extra cost for this
This also applies to our mobile dog grooming service. It allows you to carry on with jobs you may need to do whilst we are grooming your dog. In some instances this will be more cost effective than the time taken to travel to us. It also suits dogs who may not like a conventional grooming environment.
There is extra cost if your dogs coat is heavily matted or your dog behaves badly whilst grooming. This is due to the extra time it will take to groom safely.
What am I paying for ?
In using a dog grooming service, or any small business, not all your payment goes to the dog groomer. When you are told the cost of dog grooming, remember you are paying for:
Premises Rent
Electricity
Gas
Groomers training
Groomers ongoing training
Scissors
Clippers
Blades
Sharpening
Towels
Washing
Disinfectant
Water Supply
Sewage
Correct waste disposal
Business insurance
Buildings Insurance
Liability Insurance
Music Licence (you need it for a radio)
Groomers Wages
Tax
There are things missing off this list, but we feel it much better to expand on your question "How much does it cost to have my dog groomed ", than apologise for anything less.
" So How much does dog grooming cost ?"
For your dog, click here, leave us your details and we will happily call back and tell you
Saying farewell To a Rescue Dog
I sit writing this and it feels like another chunk of my heart has been ripped out. Want to see a grown man reduced to tears ? Just come here when we have had to say goodbye to another of our rescue dogs.
Those who have lost any dog will know the pain I am feeling tonight. I have just received the call from the vets, to say our rescue dog, Sali The Westie has passed away. This little timid bundle of white fur, that came with manky ears and problem skin. A dog that came on foster that we adopted only just 6 short months ago
Why do we do it?
Having friends that run a rescue centre, as well as dog grooming for a living, means we frequently come across dogs that need a new home. These can be through genuine reasons. but quite often they can be ex breeders. Past their usefulness, and sometimes those that should never have been bred from.
We could not even say Sali was 100% West Highland Terrier, and to be honest we didn't care. She came into our home as a foster, like others before stole a piece of our heart, so ended up adopted.
She was so timid. We don't know what had happened before, but a movement too quick would make her scurry. After six months she was just beginning to accept approaches from humans. The only blessing over her last two days with us was her willingness for a cwtch, and to have closer human contact.
The Rage inside.
I practice Buddhism. One of the main precepts is a respect for all life. When it comes to the dogs in our care this is relatively easy. We accept their faults, and in return their love. They accept ours. What is harder though is to see those who are cast out, and to try and understand the reasoning behind it. The only rational I can offer is to be thankful that it has allowed us to share our lives with those who have trusted humans, despite what has been inflicted on them.
There for the dogs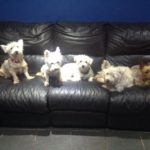 Sali is on the far left of this photo. She was quite happy with the rest of our gang who accepted her.
We humans can learn a lot from our dogs. They take no notice of differences. Colours of coat, afflictions, imperfections etc. So often we are asked do we prefer working with animals or people. All of us here tend to answer animals. Perhaps their lack of prejudice is why and what we aspire to.
We cant save them all as much as we want to.
Will we do it again?
Will we have another rescue? Another elderly dog again ? Despite all this pain. Never say never. We have to be there for our other gang members. They are never just a dog. Dog people will get it. They are part of the family. Each time we have to say goodbye, we loose part of our heart. The next one in doesn't replace the one we have said farewell to. They do however give their love and remind us to give ours in return.
Farewell
So farewell to our little rescue westie Sali Mali. For the short time you were here, you had our hearts. Part of our heart will go with you, but you will always stay in our memories. The final cwtches we had will never be forgotten. We hope we bought you the comfort you deserved in your last few months.
A New Mobile Service.
Thanks to the support of our loyal customers, our dog grooming salon is near capacity. From experience, we have found a lot of dogs appear to be more relaxed when they are the centre of attention. Taking this into consideration has led to our investment in a Mobile dog grooming salon. This allows us to offer the option of our service on your door step.
Why Mobile ?
Chris used to do home visits in special circumstances. Although the desired service could be carried out to a very good standard, a Salon groom still had the edge. Over the last 12 years we have had the privilege of working with only one persons dog or dogs on the premises. To offer our service to more people and take on a high street premises, and work the way we do, could mean having to compromise on service or raise prices substantially.
By offering this service, we can continue working to the standards we believe in at the salon, as well as offering mobile dog grooming for those who want a visit at home. We allow well behaved humans to watch either service.
What's Included ?
Our Mobile dog grooming offers all of the features of our standard Salon Service, but carried out on your doorstep. We allow time to introduce your dog to our environment, and to get to know them. We always discuss owner requirements and will discuss with you whats best for your dog.
Booking.
As with our salon service, there may be a wait for your initial mobile dog grooming appointment. The majority of our clients will book their dog grooming appointment in advance, usually doing so before they leave. We operate on an appointment only basis, and allow the time required for each dog as an individual. We allow extra time for first appointments to find out about your dog and yourself. Please feel free to ring on 01267 282828 to discuss your requirements. We don't answer the phones whilst dog grooming, but please leave a message.
In the Beginning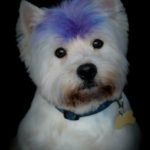 Thirteen years ago we struggled to find a dog groomers that worked the way we envisaged for our West Highland Terriers Hamish and Macbeth . I went to do a basic training course, and was hooked. Sadly Hamish and Macbeth have passed, but what they helped create has remained. I will be ever grateful to them for the path they started me on.
Building The Business
Over the course of the next few years, I gained experience by attending seminars, completing my N.V.Q.'s and the business rapidly grew, mainly by word of mouth referrals . Six years ago, I had to cut back on my workload due to health reasons. For the next few years I stayed low key, only seeing a very small number of customers.
Building on Knowledge
During this time I gained my BSc (Hons) in Animal Welfare and Behaviour. I also met the lady who works with me part-time Ashlee, Like me she has her FdSc in Animal Science and is presently studying to gain her BSc.
Sharing with Others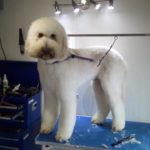 This has allowed us to take on more customers. Ashlee concentrates mainly on smaller breeds, whilst I generally take on larger breeds, as well as concentrating predominantly on poodle and bichon crosses. I lecture part time in Animal Care with youngsters at the local college, and have also run short courses for owners who wish to learn to groom their own dogs between appointments.
Dogs and Their Humans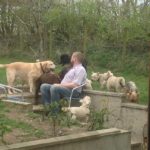 I have a special interest in what the Americans refer to as H.A.I.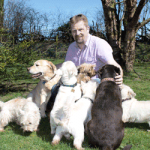 (Human Animal Interaction) and both my FdSc Thesis and BSc Dissertation centred around this. Looking at the benefits of owner education in grooming their dogs, and the benefits of dogs for those suffering anxiety, depression stress or P.T.S.D. A large amount of this interest has stemmed from the interactions I have with the gang of re-homes and rescues that live with us. In fact it is predominantly down to the fact I have to keep them in the lifestyle to which they have become accustomed, that I still groom other peoples dogs.
What We do Differently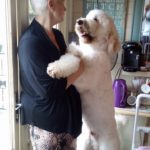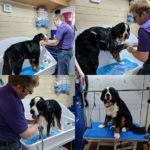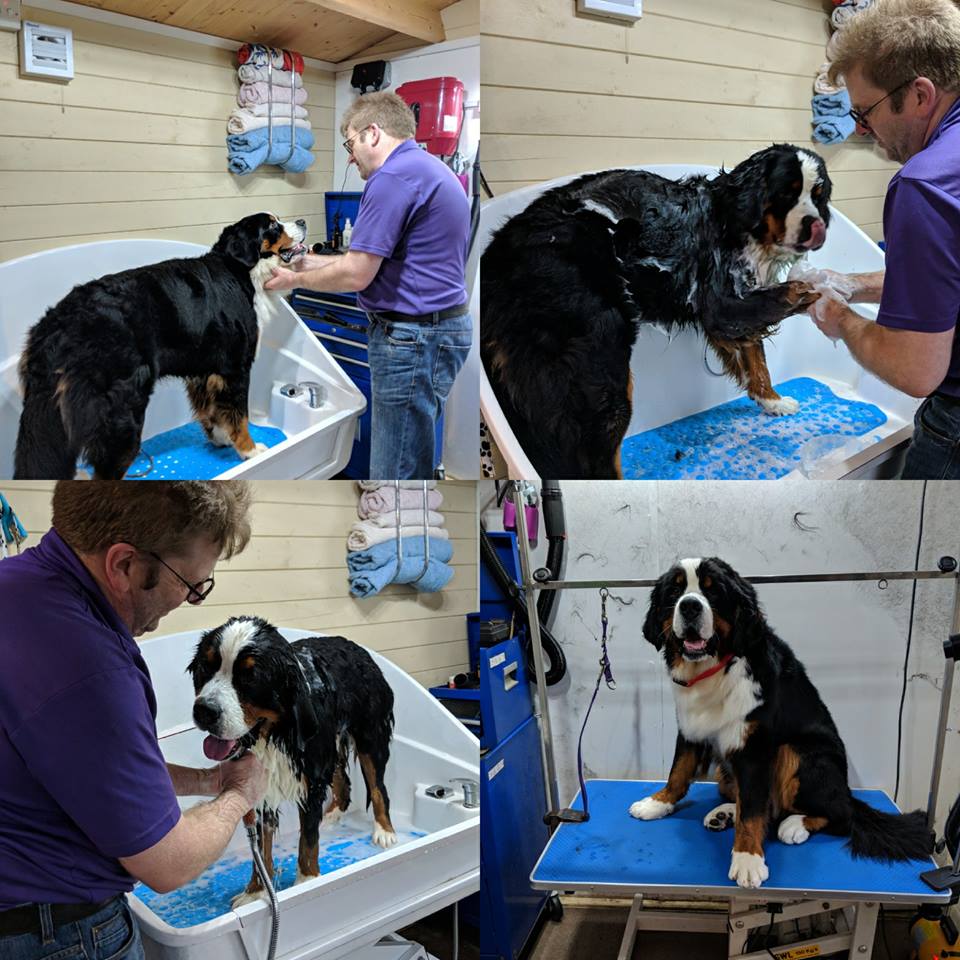 We work on a one to one basis with your best friend, and book appointments in such a manner we aim to create a less stressful environment for you and them. From experience, this leads to an increased chance of a more enjoyable time for you both.Where required, we may suggest an initial assessment appointment for you and your dog to meet us, before we start any grooming. Building on this then allows your dog to get used to us and a new environment.
We use only naturally and organically based products, have an open door policy, and don't believe in having your best friend waiting around in cages.
Although the majority of our customers are from Carmarthen, Cardigan and Pembrokeshire areas, we do get people who travel further afield. If booked in advance we can often cater for tourists and seasonal home owners.
We are more than happy to discuss your requirements and look forward to meeting you and your pawpal.
Cutting Dogs Nails.
Often we come across a dog who object's to having its nails cut. There are numerous devices on the market to try and alleviate this problem. There are however things you can do which may prevent the problem from occurring or alleviating it.
Why Cut Your Dogs Nails.
Left unchecked and uncut, your dogs nails will grow to an extent it causes discomfort. They get so long that they grow back into the pad. This causes pain and infection requiring veterinary treatment.
Make it a habit
A lot of our owners are comfortable cutting their own dogs nails. If your dog isn't happy, the first thing I would recommend is getting them to have their paws held. The idea behind this is too build up the amount of time you can hold them for.
How to go about it
I suggest the following is done whilst in a safe place, where you and your dog are comfortable. I tell all my owners investing in a dog grooming table is sound for them and their dogs. Dogs love routine. Set it as you mean to go on. It will be less stressful for both of you.
As you hold them, let them know holding it is a good thing, give praise or a titbit. Leave it longer holding it before giving them the treat. Give the treat whilst you hold the paw when its still. If you have a dog that pulls the paw away, keep a light grip on it.
Don't get into a tug of war pulling it back as you risk injuring the dog. Stay quiet, don't shout or encourage stay calm until the dog is still again. then give the praise.
Now the dog has gotten used to this, do it with all four paws. Leave the nail clippers on the table every time you do it. When you are moving the paws, make sure you only move them in the natural direction of the dogs joint movement. Sometimes you may find it easier to turn the paw upwards, as shown in the picture, to gain access to the nails.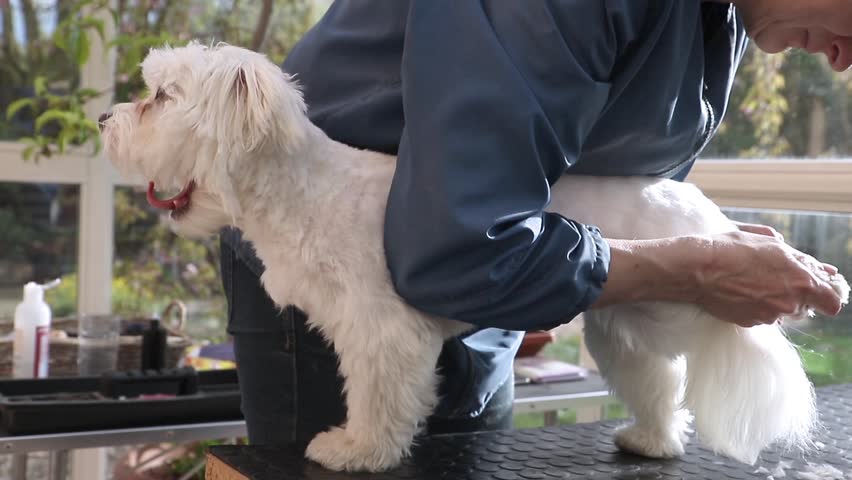 This procedure may take quite a time to achieve, but it should prove less stressful for you and your dog. Don't do it all in one go, unless your dog is happy with it. Make sure you are both safe and comfortable, and your dog is secure on the surface on which he is standing.
Cutting The Nail
Nail Types
We mainly see two types of nails, those with a clear pink quick, and those that are dark where the quick isn't readily visible.
Clipper types
There are several types of nail clippers on the market. The last few years has also seen an increase in the use of dremel type electric grinders. For this entry though, we will just look at the most common type available.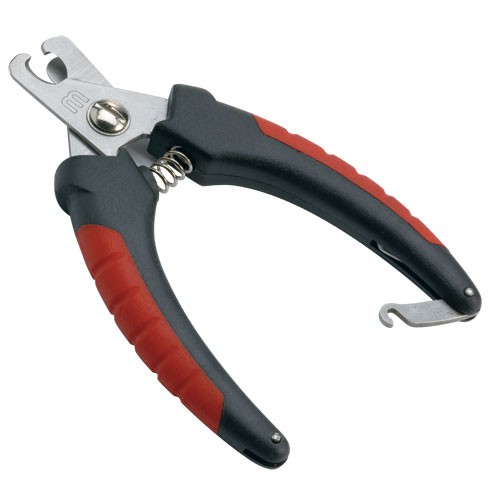 Most of these are fitted with a moveable guard. The idea behind this is stop too much been cut from the nail. Be careful, this set distance may also be too big a cut, and can block your view
The diagrams below show where to cut on the nail. If you cut through the quick, it will bleed. It is always worth having a product like Trimmex on hand. If you haven't, a tip passed to me by a vet, is pressing the nail in a bar of soap.
Carefully trim the nail back. Again a small amount at a time is better if you are not confident. As you trim the nails on a regular basis, this keeps the quick short. This is easier to achieve on light nails where you can see the pink. It is harder on dark nails.
On Dark nails, again small trimmings will help the quick recede.
If you look at the underside, it will have the appearance of a horseshoe with a raised edge. Only trim this raised edge, until the nail looks like the second in this picture
The Benefits of Exercise
Regular walking on harder surfaces will help keep your dogs nails in check. Some dogs nails seem to grow at a faster rate than others. Exercising mainly on soft ground, will require checking the nails more often.
If in Doubt
When you are not comfortable or nervous, I am a firm believer your dog will sense this. They will then react to your nervousness. This then becomes a cycle, leaving both of you stressed. If you are in any doubt, seek professional help.If you are not happy cutting the nails, by getting your dog used to having their feet handled, will help them and the professionals. Extra time spent with your dog is a bonus, even more so when its a benefit to you both