A Dog is For Life
Call me a cynic, but having just spent half an hour scanning a well known internet selling site,I couldn't help but notice that approximately 50% of the adverts were for puppies. Most of these were either ready now, or available in the weeks leading up to Christmas.
A large number were also of a mixed or 'designer' variety, cockerpoo's, cavashons, poodle x cairns, jugs etc. Also some listing dogs of a specifically cute nature, such as mini dacshounds and mini schnauzers.
This happens every year.It makes me wonder why we are still having to promote 'A Dog is for Life not Just For Christmas' .A slogan that is 39 years old this year.


The Most Wonderful Time of the Year
An addition of a four legged friend, will make anytime the most wonderful time. A new pup in the house can also be very stressful.The toilet training, the sleepless nights, the feeding routine, the destroyed toys. All this on top of preparing, cooking and been confined to close quarters with people you may not see for the rest of the year.
Although the percentage of dogs obtained by way of been received as a gift may have dropped from 20% to 2% over that period. If we consider the number of people owning dogs has increased overall, the message may not be hitting as hard as it should be. In 2012 over 9000 dogs were destroyed in council pounds. (figures from dogs trust). A lot of dog rescues have no destroy policies, council pounds haven't that luxury(1).
These figures admittedly don't just cover Christmas pups, but also older dogs . Knowing some people who work tirelessly in rescue, I can confirm some of the irresponsible excuses highlighted by John Bingham in 2008 are still heard. These include the puppy bought for someone with a known illness.(2)
So sometimes for a dog, it isn't the most wonderful time of the year.
The True Cost of Christmas.
I will not try to put anyone off taking on a puppy. This article does not aim to criticise responsible breeders. I would however implore people to look at the true cost of having a puppy in the house at any time. If your tree, present and food survive, depending on breed you are taking on up to a 20 year plus commitment.
That bundle of joy will provide you with love, devotion and attention that outweigh any financial cost. The hard reality is however, there will be a cost in time and finances. Start with food and insurance, and even for one dog you can be starting at £100 per month upwards. leads bedding, boarding costs if you are away, vaccinations etc will also add to this.
The true cost of Christmas could over a lifetime could easily enter five figures.
The Perfect Gift
To my mind the addition of four legs to a household is a privilege not a right. The perfect dog does not have to be a pup, or a designer breed. Every dog person will think despite any faults, their dog is the perfect dog.
Anybody taking on a dog really does need to think carefully about who they are taking into their home. It may just be that the perfect dog for you is in fact waiting in a rescue centre in June, not under the tree at Christmas.
1.https://www.theguardian.com/world/shortcuts/2013/dec/08/dog-pounds-nightmare-christmas-unwanted-pets
2. http://www.telegraph.co.uk/news/newstopics/howaboutthat/3776640/Owners-give-up-dogs-because-it-doesnt-match-the-sofa.html
Why should I Pay for a Rescue Dog?
Recently I have seen discussions on social media selling sites when dogs have been advertised free to a good home. This will always ignite a barrage of comments, some more politely worded than others. These will usually stem around the "These dogs will be used for bait" "They can be picked up by dealers or people who will sell them on" or "Why should I pay a rescue when I can have one for free"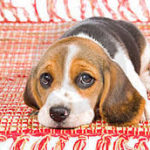 Genuine Cases
I will not pass judgement on people who have to rehome dogs, when they believe it is in the dogs best interest. As well as those who have misjudged what they have taken on, there will always be genuine cases such as illness, bereavement etc. Arguably there will also be cases where negligence has played apart or abandonment, these dogs will quite often end up in Rescue.
The True Cost of taking on a Rescue Dog
No Dog is truly free of cost to a responsible person. I am fortunate to know some wonderful people who work in rescue. Locally to us I see adoption fees ranging from £120-£200+ . Some operate a flat fee.Others will differ by breed.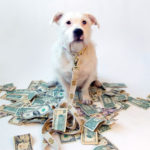 From personal experience I know neutering, without scheme vouchers, can cost £80 upwards. Vaccinations from around £30. So the free dog has already cost you £110.
Responsible rescues will assess dogs for behaviour, perform home checks and carry out the above prior to re-homing. The dog will also have been fed whilst in their care, given clean bedding and sheltered. This requires the maintenance and cleaning of buildings. There may also have been medical conditions that required treatment prior to re-homing.
Meeting The Cost
Small Rescues are often Not for Profit Organisations, if not registered as a charity. Most will rely on volunteers help, and donations from sponsors. They may get discounted vet bills, and occasionally finance from schemes sponsoring vaccination and neutering. I would suggest often the £120 fee may not cover what has been spent on the dog that you are about to re-home.
Why the fees and checks?
A rescues main priority is save a dogs life, and to find a safe home. When re-homing a rescue dog, consideration must be given to its requirements. If a rescue dog is placed in a home that is not suitable, it can be returned to the rescue to start the cycle again. This will be detrimental to the dog, as well as increase the financial burden to the rescue.
In carrying out these procedures, home-checkers may raise issues potential adopters had overlooked. This is not being critical, but there may be dog specific issues. We have known small terriers of clearing high fences if not burrowing under.
Rescues will look for humans and homes that will suit specific dogs. Hopefully that will then be their forever home.
Can you afford a dog?
This is not meant to sound condescending. Living with a rescue dog, or any dog is a privlidge not a right. I will not begrudge anyone sharing their life with a dog. Neither would I slate anyone for trying to rescue a dog. Regardless of your social standing dogs require sacrifice. I have seen people with no possessions with well cared for and well loved dogs. I have also seen wealthy people with neglected and underfed dogs. My main concern, is that where possible that rescue dog is the right dog with the right person.
There are organisations that can help with vets fees, such as blue cross and PDSA. There will still be the costs of food, vaccinations,training, bedding etc.
Rescue and Research
This is not designed to dissuade you from having a rescue dog of any kind. The aim is to make people aware of costs. However much research you do, whether generic or breed specific, you will miss something. Living with dogs is rewarding, even more so if you can take the stress out of the relationship. It will be a constant learning journey, with ups and downs on the way.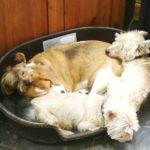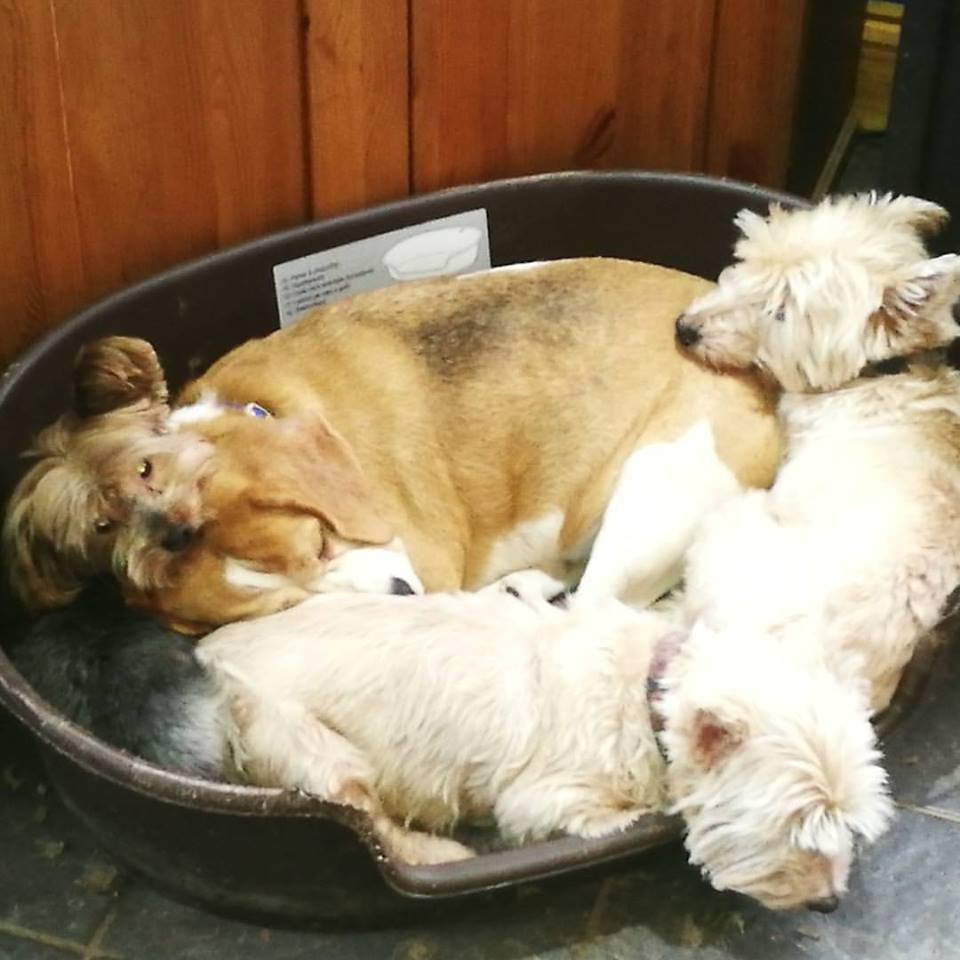 Before you question the cost, visit your local rescue. They will be happy to help. Ask questions, work with them. They will help you find the right rescue dog for your circumstances..
For further reading supplied by hope rescue: rehome information
Our Local Rescue Centres
Dog Grooming Lessons.
"I Can't Groom my Dog"
"He (or she) won't let me groom them". A comment I hear frequently from new customers, generally just before I'm presented with a dog I have to clip off due to matting. Some scenarios are worse than others. Ok some dogs are less problematic to groom, and it is easier to maintain between regular grooms.
Every Pawpal benefits from a Groom
Fact all dogs need some level of grooming. Whether it's bathing after a muddy walk, maintaining nails, or brushing coats out daily. If everyone could groom their dog to a professional standard, I would be out of work. As a human with four legged friends, there are things you can do to reduce the stress for you both.
Owner Education
In 2015 as part of a Degree in Animal Science, I looked at the benefits of owner education in grooming and its effect on the behaviour of their dogs whilst been groomed. Frequently, The knowledge gained by owners, with positive re-enforcement for the dog, resulted in a more pleasant experience for both.
Teaching your dog to accept grooming, is like teaching any other trait.It can take time and different dogs take longer to pick up on it. The advantage of a human knowing what they are doing also appears to help the dog. The anology I use is; Imagine going to the hairdressers and been sat down with the trainee on their first day. With no instruction, they stand over you with a brush and scissors. You will both feed off each others nervousness.
"Will This make me a professional Dog Groomer?"
Quite Simply No. There are at present no legal requirements for training to be a dog groomer. That said, there is a positive movement within the industry, to raise its image and maintain the standards set by professional groomers who have invested large amounts of time and money in their training.
The main objective of this course is to train people in the correct care of their own dogs, been able to bathe and brush out and maintain the coat between professional grooms, and covering basic clipper and scissor techniques for those who wish to look after their own dogs safely to a basic pet standard.
We will give insights into what is involved in entering the industry, and hopefully if there is sufficient interest, will look to run further courses in the future. To book a place please contact Anna Lowndes whose details are on the below flyer.
"I only work to keep my rescue dogs in the manner to which they have become accustomed" I'm sure some of my customers think I am joking when I say this, but refer to my earlier blog about the costs of dog ownership and times that by 9.
Why Rescue Dogs?
Lets get this straight, I will not begrudge or slate anyone who has to give their dog up for rehoming or rescue, when circumstances dictate that it is the best course of action for the dog. It happens. Its easy to say I will live in a caravan in a field first, but sometimes that caravan is not always available. What does get me is those that are abandoned, thrown out beca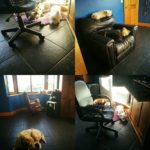 use they are no longer financially viable, those that are out of fashion or become too expensive or boring. I'm sure we have all seen the adverts and those who have been around a while can read between the lines.
Dogs Discarded
The main point of this whinge though is to highlight the work of some of our small local rescues, and why I am glad some people did discard their dogs. " Glad!" I hear you cry, yes glad, because without those irresponsible people we would not have six of our gang. The other three I would call responsible rehomes, and I know it upset deeply the people who had to do it.
Rescue Dogs Rock
I will Leave George the Third, Buster and Pheobe for another day as they I would term rehomes, but let me tell you about the joy the rest of the gang have bought, and why I will keep saying rescue dogs where you can.
Skye and Ruby (Westies)
A lady who shall remain nameless, stitched me via facebook for grooming these two ladies who were frequent escapers, the human they lived with decided he had enough of their antics, and let the warden keep them.
I was smitten the first time I met them. Skye was the more timid of the two, but has eyes you can fall into. Ruby is a little plumper, and with her head at a certain angle does a passable impression of yoda, thanks to the lie of her ears. As the rescue was at capacity ( a not uncommon occurance) we offered to foster these two dogs, right up to the point it was mentioned the difficulty in rehoming two dogs together. We failed at fostering we were now adopting, this was before we got them into the car.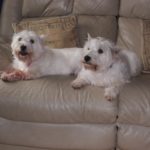 Originally outside dogs, since been with us they have adapted well and have proved a delight when we have taken them on stress busting visits for students. We have had the occasional accident,but we have a mop. It was also beautiful seeing them act as surrogate moms to two of our younger dogs.
Poncho (Yorkie x's)
Knowing people who run a rescue can be expensive. Travelling as I did, I was asked whether I could transport a dog from one rescue centre who were full (can you see a common theme here) to another. The picture was circulated on facebook, to try and find a home. The sight of Poncho attracted the attention of my daughter and wife. To be fair who could resist a ball of fluff.
A breeder cast off because he had a hernia and was going to cost money. This little fellow now is full of spirit. When on a walk he will beat the bigger dogs to retrieve a ball, and then coming running past , turn tightly to outpace them, then drop the ball at your feet to get a head start for the next round.
What amazes me is, I haven't taught him fetch, he is a natural. When he sits on the window sill late afternoon, with the sun setting behind him, the shadow he casts is batdog..maybe that is how he knows.
Bugsy,(Yorkie x)
Well everyone loves Bugsy. He is my prime example of why perseverance pays. I met him the same time as dropping Poncho off. He was a scruffy, smelly, matted small dog, a split down the centre of his nose, wonky teeth, one ear sticking up and the other falling down. I am a big rufty tufty, I do not do small dogs, and there is no way I would have a yorkie.
These eyes looked straight at me through the kennel door, and I knew he was coming home with me. Persuading the good lady may have been difficult, but working on the theory she knows I can't afford another divorce, I didn't tell her. Not I hasten to add a course of action I would recommend. Fortunately she too took to him. For the first eighteen months, he would not approach anyone else and was very much "my" dog. Where ever I was in the house he had to be. If I wasn't around, his favourite spot was under the Kitchen Cupboard. Over the last 12 months however, he has comeout of his self, and will now approach others for a fuss. In fact he is the one most people want to take home with them.
Shadow (Labrador)
Velcro would be a more appropriate name. A dog who just loves human company and has to be by your side whenever possible. So close that if you turn you fall over. Like George she is a master at the "Your hand needs to be stroking me" muzzle flick.
An ex breeder, she came into rescue about a month after we lost our permanent foster lab Minnie through old age. A contrast in character though, she is full of life on a walk, loves lying by your feet when she isnt, and her bark…Shes scared a few people knocking at our door, it comes right from her chest.
Bailey (beagle)
Often refered to by my son as bagle, and by me as L.S. The sweetest most affectionate dog you could ask to meet. Loves people, loves fuss. Came into Rescue 2015 where he spent some time, was adopted, but then sadly came back as he was a bit of a handful.
Handful could be considered an understatement. After all this time around dogs, I fell for the sweet looks, the big brown eyes and his response to sit and recall. This was, however, in a confined space. The plan was to foster him, to avoid going back to kennels, and to get some of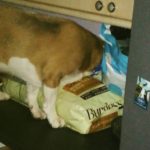 the excess weight off. The first week was so good, I let him stay.
The second week I began to understand why he may have found himself where he was, together with Shadow they managed to gain access to the utility room, break into the freezer and empty the veggies. They did however kindly leave all The Quorn goods favoured by my daughter. The next trick was to pinch a joint of beef of the counter whilst I was distracted, hes a generous dog though he shared it with the other six in the room at the time.
Glad they were in Rescue?
The point is every dog, rescue or otherwise will have their baggage in the same way that we do. If we accept that, as they accept us, we can help them carry it instead of using it against them.
So that is why I am to a certain extent glad they ended up as Rescue dogs, it may sound selfish, but each one of them has bought their own character, love and feeling into our home, and without the people that felt the need to pass them on, myself and my four legged mates would not enjoy the life we do
Another of the common questions I get asked whilst grooming peoples dogs, is have you been bitten or how to you prevent a dog bite? My personal opinion is it is very rare for a dog to bite for no reason. As someone who spends a great deal of time around dogs, both customers and my own, I believe you should be able to see a bite coming. Its just one of the reasons we like to allow extra time for nervous dogs. This avoids intimidating them in an environment they may not be used to.
A conversation with one of my university lecturers, who is also a qualified vet, disclosed her belief there are a couple of breeds that it may not be possible with. I also get concerned every time I read or hear of someone been bitten. Whilst it may not have been avoidable in every case, I believe a raised level of awareness could reduce the risk.
Aggression or Fear causing a Dog Bite
Ciribassi(2015) highlights the possibility that often signs of aggression in dogs can be fear related, in response to their uncertainty over humans actions. He also highlights the need for aggression in a dogs life to certain levels, for example in play and in self defence.
The risk of escalation of aggression can occur, if a dogs signals are not read correctly. Ciribassi also notes that often a dominant owner approach can also risk this escalation. Dr Sophia Yin provides several easy to ride posters on her website: Signs of Dog Fear/Aggression. A more detailed list can be found here :Dr Marty Beckers Signs of Anxiety and fear
Suggestions for Dog Bite Reduction
The above diagram shows some of the basic signals. Jalango(2008) writes on the benefit of teaching young children how to interact safely with dogs at an early age, The tips she passes on could well be of benefit to adults:
Always ask before stroking a strange dog
Let a do sniff the back of your hand first, pet gently, never on the face or head
Ascertain what the dog enjoys, engaging in this behaviour will benefit the relationship
Its unwise to interrupt a dog eating, it may assume you are after its food and defend it
When offering treats, use an open hand, it reduces the risk of accidental bites if held in fingers
A hug or squeeze can be intimidating to a dog, it could lead to a bite
Avoid reaching into crates, cars over fences etc to fuss a dog, it may be territorial
Let sleeping Dogs Lie ! a disturbed dog may be scared and try to bite
Avoid petting dogs tied up alone, they may find it intimidating
Teasing dogs, can lead to bites
Inappropriate rough play can result in injury if a dog snaps or jumps up
When approached by a strange dog, remain still and quiet
if chased by a strange dog, don't run and scream, usually then the do will go away
If knocked over by a do, curl up cover your face and neck with arms and hands
If you find a sick or hurt dog, find assistance, scared and hurt dogs may bite
Never bother a bitch taking care of her puppies, she may bite to protect them
Dog Bite Prevention in Education?
Demirbas et al(2016) found that even owning a dog may not lead to the correct interpretation of signals given off by a dog, and make recommendations for obtaining theoretical knowledge. Possibly crucial when dogs and kids are been supervised. Cinnamon et al(2011) carried out a study with 5-15 year olds, of which 43% lacked Knowledge in relation to dog bite prevention. 70% of those involved had never received preventative education despite 88% of the parents desiring it. This would support Jalango's view there is a place for it in the curriculum.
And Finally..
I would suggest that by the very nature you've read this far, you are a responsible dog owner. I may not be the best at putting it across, but we really do need to raise awareness and education around dog ownership, not just for reducing the risks of bites, but for ours and our canine friends welfare. This is less than dipping a toe in the resources and information out there, you could be amazed at how much you enjoy the further reading
refs:
Cinnamon et al(2012) "Dog Bite Prevention:An Assessment of Child Knowledge" "The Journal Of Pediatrics" Feb p337-341
Dermibas et al(2016) "Adults ability to Interpret CAnine Body Language during a Dog-Child Interaction" Anthrozoos 29(4) p581-596
Jalango (2008) "Beyond a Pets Theme:Teaching Young children to Interact Safely with Dogs" Early Childhood Education Journal 36 p39-45