Is 2022 the year you finally do it?
What's in the qualification ?
Make no mistake. The fast track is not an easy option. You are still required to complete the same amount of evidential work as those starting from scratch. 
What it does do is to allow you to show your knowledge of prior learning and experience. The reason we chose to deliver the IPET Level 3 Diploma in Dog Grooming and Salon Management,is the way its structured to evidence continual learning. This allows you to submit diary entries for dogs you are grooming in your own salon. You will also be required to complete modules using an online portfolio to cover the theoretical side of the qualification these are:
301: Health and Safety in a Dog Grooming Environment 
302: Promote the Welfare of Dogs conforming with Relevant Legislation
303: Customer Care and Managing Complaints
304: Assess and Plan Dog Grooming Styles and Maintenance of Equipment
305: Health Checking, Handling and Canine Behaviour
306: Prepare, Style and Finish a range of Dog Breeds
307: Canine Emergency First Aid
308: Planning the Operation of a Small Canine Business
 The final part of the qualification then is 3 practical assessments demonstrating your skills. 
So Why Study with us ?
Chris has been grooming on a professional basis for 17 years. Not only is he a qualified Dog Groomer he gained a BSc(Hons) in Animal Welfare and Behaviour. On top of this he also holds his PGCE teaching qualification.
When he entered the industry he was never totally satisfied with the standard of training received. This led to an ongoing journey of seminars, workshops and further qualifications to improve his skills. However he was still aware of the need to encourage people entering the industry to take the right route, avoid the pitfalls and get a good level of training. 
Seeing the array of options out there for qualification, and the costs involved, Chris realised how confusing it could be. He is a firm believer in seeing the industry viewed as the professional environment it is, and encouraging people to obtain their qualifications as evidence of their skill sets.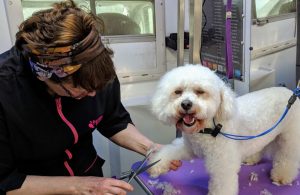 As a Training Centre offering the IPET qualification, we are audited twice a year . This ensures we keep up to date with new techniques, are externally verified and audited. To meet their requirements we not only had to have grooming experience and qualifications but teaching qualifications as well.
One of the things Chris realised is the difficulty of fitting learning in around present commitments, and keeping the focus and motivation to keep moving forward.
This is how the idea of this structured course came about. 
How Does it work
Firstly, a weekend with us. During this time we go through how the e-portfolio works. We then have sessions going through the theory modules. We wont be giving you the answers (chances are you will know a lot of it already) What we will be doing is getting you back into the mindset of a learning environment, helping you see the detail that's required, and in a group sessions getting you to think differently. (As someone who did his degree 30 years after leaving a classroom Chris knows how hard this can be)
Then its back to your own salons. Your diary entries will be dependant on your own work rate. This will be discussed with you and Time scales set individually. You will also have dates set that your assignments are expected in by.
We have a facebook support group as well as access to Chris weekly through zoom. This is aimed at keeping you motivated throughout the qualification.
For the final stretch Chris will come and spend three days at your salon to carry out your final assessments and First Aid. This should also allow time to go through any issues you have.
And the costs?
The fee INCLUDES 2 nights Accommodation and Breakfast close to the training venue.
All Registration and Certification costs with IPET
All initial assessments and Chris Travelling to your salon. (If suitable Dogs for assessment cannot be located by the students, you will be asked to come to us)
The total Fee is £2295. This can be spread across seven payments as follows:
£700 Deposit (nonrefundable) This covers IPET registration and accommodation
5 x £200 monthly payments during your course
1 x £595 Balance payment On Chris's Attendance at your salon.
Due to the nature of this course we can only offer 6 Spaces.Any Questions.?