Welcome
To you and your Pawpal. At Dog and Bone Grooming we believe in offering a dog grooming service that is less stressful for both you and your dog. Our location in a peaceful country town. We take the time to settle your dog, allowing more time for those who are nervous. All the products we use are either natural or organically based, and we stock specialist shampoos for those dogs with sensitive skin.
You are more than welcome to watch and wait.There is only ever one customer and their dog(s) in the grooming area at a time. From experience we have found this a better environment for dog grooming , than leaving them all day.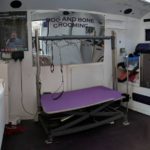 AND NOW FOR SOMETHING NEW…We have invested in a Mobile Grooming Salon. A fully kitted van which means we can offer a full salon service on your doorstep. Free running warm water, the same great products. Your dog treated as an individual, and the full service carried out in the back of the van, so no mess in your home.
Full Grooms start from £28 in the salon and £38 in the Mobile Salon, check out our service page to see what is included in the price. Mid groom spruce ups start at £20 for dogs that are with us regularly , service varies by breed.